News & Events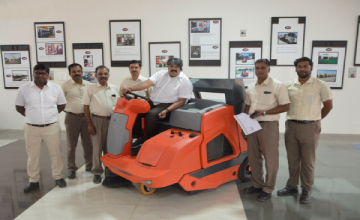 Unveiling the most exquisite ride on sweeper
RootsSweep RD120.
Mr. J. Krishna Kumar, Director – Sales & Marketing (Domestic & Exports), officially unveiled the machine on 27th February 2023.
Roots Multiclean has launched an innovative graceful RootsSweep RD120 indoor & outdoor sweeper machine, providing fast and efficient cleaning. 
The RootsSweep RD120 will provide maximum cleaning efficiency. It integrates cleaning and sprinkling and offers excellent cleaning. 
Moreover, the RootsSweep RD120 cleaning machine has a predominant Gradeability of 20%, which makes it suitable for schools, communities, parks, warehouses, factories, mall squares, harbors, airports, railways, etc…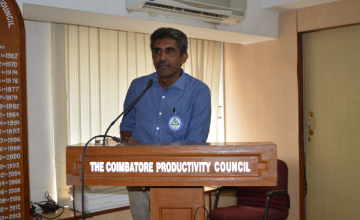 51st National Safety Day Celebrations
The 51st National Safety Day was celebrated on 4rth March 2022 in all our group companies. Various Safety Promotional activities were carried out on the day, which included Display of Safety Banners, Distribution of Safety Badges and Taking Safety Pledge at each of our Manufacturing Facility. The National Safety Day was inaugurated by Officials from Directorate of Industrial Safety & Health (DISH), Executives and Participants from across our Group at Coimbatore Productivity Council – CPC. A one day Special Training Programme on Safety was conducted to the Participants at CPC.
The Safety Day was Inaugurated by Officials from DISH which included Thiru.V.S.Saravanan – Joint Director Div II – Coimbatore, Tmt.R.Vimala – Joint Director (Registration), Thiru.S.Thangadurai – Deputy Director I and Tmt. N.Harinin – Asst. Director – IV and Executives from our Group included Dr.Kavidasan – Director HR, Mr.A.Mani – COO, RIL – (Automotive & Furniture & Appliance Division), Dr.S.Sudhakar – Head HR, Dr.S.Saravanan – Head HR (RMCL). Mr.N.Sampathkumar – Head (T&D) and members of the Safety & Training Team.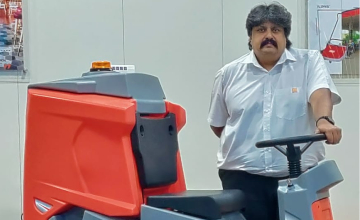 Unveiling The RootsScrub RB 850 Standard and Premium – The Icon of Performance and Efficiency.
Roots Multiclean Ltd is proud to launch the All-New RootsScrub RB850.
Mr.J.Krishna Kumar, Director – Sales & Marketing (Domestic & Exports), officially unveiled the machine on 21st December 2021.
RootsScrub RB 850 provides excellent cleaning with great comfort, manoeuvrability and productivity for cleaning requirements in space including Manufacturing plants, Shopping complexes, Corporate offices, Warehouses, Hospitals, Educational Institutions etc.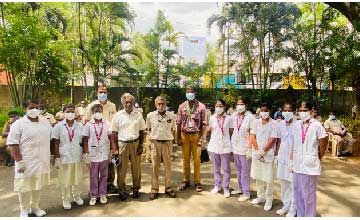 COVID'19 Vaccination Camp
COVID'19 Vaccination Camp was organized at all Roots group of companies on 25.08.2021 and 27.08.2021 in association with District Industries Centre, Department of Public Health and Health department of Coimbatore Corporation, for the benefit of Employees, Employee's family members and general public. About 3167 members were vaccinated in the camp. Medical and paramedical teams from KMCH Coimbatore, Sri Ramakrishna Hospitals Coimbatore, Arun Hospital Pollachi, and Sri Lakshmi Medical Centre Hospital Thudiyalur, extended their support for administration of vaccines. Our Chairman Sri.K.Ramasamy thanked the Medical and Paramedical team for their Support. The entire Vaccination program was organised by Dr.S.Chandrasekar-Corporate Director along with the Corporate EHS and Corporate HR Team.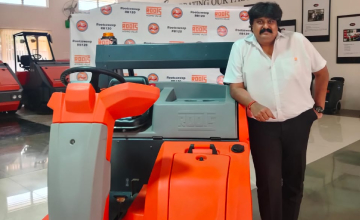 Unveiling The RootsSweep RB120 – The Gen-Nxt Superior Sweeper.
Roots Multiclean Ltd is proud to launch the All New RootsSweep RB120.
Mr.J.Krishna Kumar, Director – Sales & Marketing (Domestic & Exports) officially unveiled the machine on 7th September 2021.
The RootsSweep RB120 is a Gen-Nxt sweeping machine with impeccable features. While the wide sweeping path supports faster cleaning, the large hopper ensures continuous sweeping with area performance up to 12,400 m2/h. The ease of use and manoeuvrability allows quick cleaning of the indoor and outdoor area in all premises and supports higher productivity.
The RootsSweep RB120 is a Battery operated compact and user-friendly Ride-on sweeper powered with impeccable features. Some of the Best in class features are highlighted below.
1. Hydraulic Dumping System
2. CAN Bus Control with display
3. Variable Drive Speed
4. Dust Suppression System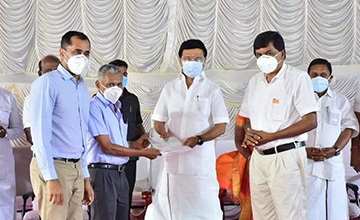 Supporting a Cause
Roots Group of Companies contributed a sum of Rs.1 crore to support the Government's sustained efforts to combat the Covid-19 pandemic.
This contribution was made to Tamil Nadu Chief Minister's Coronavirus Relief Fund by Roots Group and was handed over to Honorable Chief Minister M.K.Stalin by our Chairman Mr.K.Ramasamy, Vice Chairman Mr.Varun Karthikeyan and Director HR – Dr. Kavidasan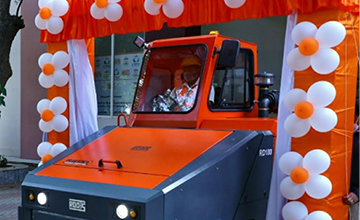 Unveiling the RD 180 – The Best in class Power sweeper
Roots Multiclean Ltd is proud to launch the All New Rhino RD 180.
Mr.Varun Karthikeyan, Managing Director and Mr.J.Krishna Kumar, Director – Sales & Marketing (Domestic & Exports) officially unveiled the machine at Roots Multiclean Ltd Unit I premises.
During the event, Mr. Krishna Kumar mentioned that RD 180 is Powered with impeccable features like Superior Air Purge filter cleaning system, Class leading large filters, Best in class fuel efficiency, Powerful dual suction impellers and a large hopper.
The RD 180 offers the best sweeping performance to the customer. The Robust & Rugged design withstands tough working conditions and offers exceptional performance.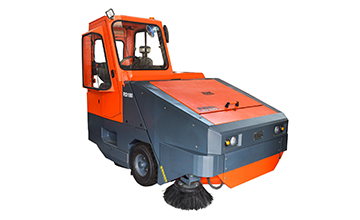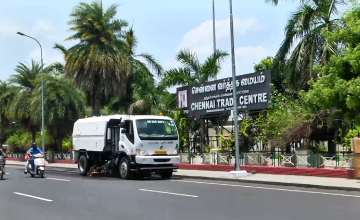 Ensuring a cleaner today for a safer tomorrow
A fleet of 38 mechanical sweepers manufactured by Roots Multiclean Ltd and other waste management equipment was flagged off by the Chief Minister of Tamil Nadu at Chennai on 30th September 2020.
These machines would be sweeping major roads in seven zones including Teynampet, Kodambakkam, Valasaravakkam, Alandur, Adyar, Perungudi, and Sholinganallur.
Mr.K.Ramasamy, Chairman Roots Group of companies, Mr.Varun Karthikeyan, Managing Director, Roots Multiclean Ltd, Dr.Kavidasan, Director-Roots Industries, and Mr.Krishnakumar Jayaraman, Director – Sales & Marketing (Domestic & Exports) were present during this flagging off ceremony.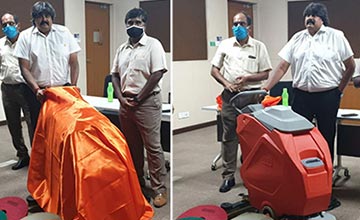 Roots Scrub E4043, The all new Walk Behind Scrubber Drier unveiled
Roots Multiclean Ltd unveils the All New E4043, an ideal walk behind scrubber drier. The new machine was officially launched to the PAN India sales team by Mr.J.Krishna Kumar, Director – Sales & Marketing (Domestic & Exports) through video conferencing from Roots Multiclean's Head office, Coimbatore.
During the launch ceremony, Mr.Krishna Kumar mentioned that E4043,the new member to the walk behind Scrubber Drier family is a perfect blend of performance, ease of use and technology.
This machine is loaded with features like Aqua Stop system,enhanced tank capacity and offers excellent flexibility,maneuverability and is aimed at efficient cleaning every time.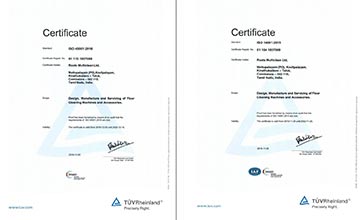 ISO Accreditation
Roots Multiclean Ltd is proud to receive the ISO 14001: 2015 which recognizes and endorses our continued quest and strong involvement in environmental responsibility.
Further, we are proud to announce the receipt of ISO 450001:2018 for establishing, implementing and maintaining Occupational Health & Safety Management (OH&S) system to improve OH&S and eliminating hazards and minimizing risks associated with OH&S risks.
We are extremely proud of these accreditations. As always, we strive continuously to improve the quality of our products & services and in turn enhance the satisfaction of our customers, employees and the society at large.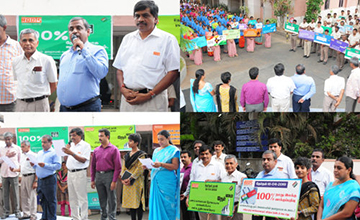 AWARENESS RALLIES, HUMAN CHAIN FOR A CAUSE
Mr. K. Ramasamy, Chairman – Roots Group of Companies, Dr. Kavidasan, Director HR. – Roots Group of Companies, along with more than 500 staffs and employees formed a human chain carrying placards here on Monday 8th of April with the objective of creating voter awareness among the residents of the city.
Thiru. K.Rajamani I.A.S. District Collector and District Magistrate, who inaugurated the human chain, told reporters that such efforts were part of a campaign undertaken at the request of Election Commission of India (ECI) to make people from all sections, especially the first time voters, exercise their franchise in the upcoming Lok Sabha elections. The human chain stretched for over two kilometers across the Sanganoor Main road, Coimbatore.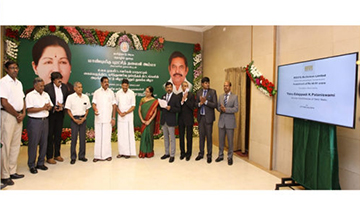 ROOTS MULTICLEAN LTD – UNIT II FOUNDATION STONE CEREMONY
Foundation Stone laying function for Unit II of Roots Multiclean Ltd, in the presence of the Hon. Chief Minister. Thiru Edappadi K.Palaniswami and Industries Minister of Tamil Nadu Thiru. Sampath.. The function was held on 27th February 2019.
Mr.Ramasamy, Chairman-Roots Group of Companies, Mr.J.Krishna Kumar, Director – Sales & Marketing (Domestic & Exports), Roots Multiclean Ltd and Senior Directors from Roots group attended the event.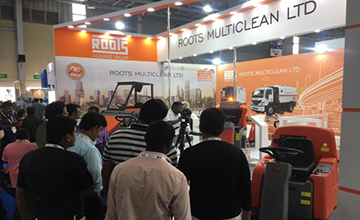 CLEAN INDIA SHOW 2019 – BANGALORE
Team Roots Multiclean thanks all visitors for taking time to visit our stalls during Clean India Show, Bangalore from 13th to 15th February 2019.
We enjoyed meeting you and are glad that we had the chance to discuss your requirements and showcase our comprehensive solutions including Vacuum Cleaners, Scrubbers, Sweepers and many more innovative solutions like Material Conveying system and our complete list of Mops Tools, Trolleys, Floor Pads & Detergents.
Thanks for the wonderful responses to our new launch RB 650 – Battery Operated Ride on Scrubber Drier.
It was a great pleasure to meet you all. Thank You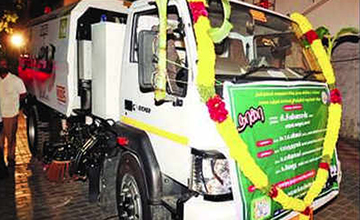 Dindigul Corporation gets its first road sweeping machine
NAGA Ltd, a Dindigul based Food Major, through CSR funds donated a Truck Mounted Sweeper to Dindigul Municipal Corporation.
State Minister Shri.Dindigul Srinivasan handed over the vehicle to District Collector Mr.Vinay.
Dindi-ma-vanam, an NGO would maintain and operate the vehicle for effective cleaning of the arterial roads of Dindigul City..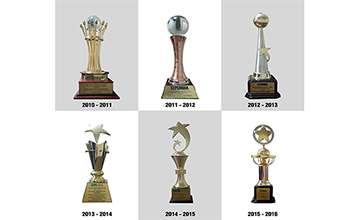 Feathers in Our Cap
Roots Multiclean Ltd has been the proud recipient of various awards and recognition for superior performance over the years..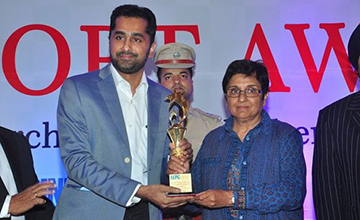 Engineering Export Promotion Council Employee's Association Star performer award
Roots Multiclean Ltd wins the Prestigious EEPC award 6 times in a row ,since 2011. EEPC , the trade and investment promotion organisation in India is sponsored by the Ministry of Commerce & Industry, Govt of India.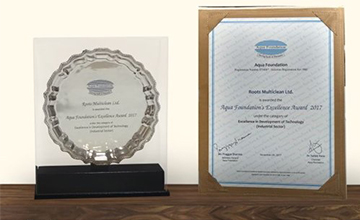 Roots Multiclean Ltd Wins Excellence Award 2017
Roots Multiclean Ltd receives the Excellence award 2017 under the category of " Excellence in Development of Technology – Industrial Sector". This award is for developing Anti-Bacterial tank in entire range of Scrubber Driers from Root Multiclean Ltd.