Category:
Sweepers – Walk Behind
The role of industrial vacuum cleaners in Manufacturing Sectors
Today's modern manufacturing sectors require advanced care to remove the debris on a regular basis. Indeed, some manufacturing units may need a continuous operation in their production line to remove the dusts, solids, and liquids.
Roots Multiclean Ltd offers a wide range of Industrial Vacuum Cleaners (IVC). Our IVC are provided with a side channel blower that is powerful, silent, and suitable for performing incessant operations.
Our Industrial Vacuum Cleaner ranges from 1.8KW to 45KW suitable for various types of industries like Food processing units, Pharmaceuticals, Steel plants, Cement Industries, Textile Industries, and Engineering Industries provided with customized solutions.
Food Industries:
Food industries are indeed required to maintain a higher level of cleanliness and a safe environment in the production line. The industrial vacuum cleaner is an ideal solution to get rid of dusts from these surfaces and prevent harmful microorganisms.
Raw materials used in the food industry may be flammable. Our Industrial Vacuum Cleaner are also equipped with ATEX certifications which denote flame proof mechanism. It helps the food industries to increase their production efficiency.
Pharmaceuticals Industries:
Cleanroom requires a higher level of cleanliness to ensure pollution free environment in pharmaceutical industries. Most of the contamination and pollutants such as dusts, and airborne microbes, are found in the cleanroom should be vacuumed effectively.
Choosing the right pharmaceutical cleanroom vacuums like LC 1000 D used for Dry application and LC 1100 WD used for Wet and Dry applications help to reduce the risk of contamination in cleanrooms.
To ensure a clean and safe environment in cleanroom areas, we offer Cleanroom Vacuums equipped with HEPA filters with a high filtration efficiency of 99.995 %.
Cement & Steel Industries:
In general, cement and steel industries expel large quantities of toxics and dangerous dusts in their manufacturing line. At every stage of the production process, it requires a high level of cleanliness to be maintained. Our Industrial Vacuum Cleaners from IVC 100HD to high-performance Truck Mounted Vacuums are an effective way to absorb dusts, and solids for a longer period. This versatile performance makes industrial vacuum cleaners a preferred choice for customers.
Textile Industries:
The dusts that are generated during the production process are serious threats in textile industries. However, modern textile industries require special attention to remove fabric dusts. To eliminate these fabric dusts, Roots offers a comprehensive range of Industrial Vacuum Cleaners that are capable of performing round-the-clock operations.
For continuous vacuuming, Industrial Vacuum Cleaners is provided with a large container with nylon bags for easy disposal of collected materials.
Engineering Industries:
Regular maintenance in engineering industries is a challenging task. Every engineering industries expels a large amount of metal chips and coolant oils during their production cycle. The scrap and metal shavings produced by CNC and machine tools accumulated in tanks have to be removed and disposed at a regular interval.
Our Roots IVC OIL 200 is a powerful oil recycling unit that helps industries to separate metal scraps and coolants. It is provided with a rotatable suction inlet for easy handling of flexible hose to cover all sides of the vacuum unit. The 3 layer filtration helps to eliminate oil mist from the suction unit exhaust.
To explore more about our comprehensive range of Industrial Vacuum Cleaners visit us at www.rootsmulticlean.com
Rhino RD 180 for Cement Plants
The cement manufacturing industry is experiencing phenomenal growth due to surge in construction activities. As the demand is increasing day by day, cement plants aim at achieving higher production levels.
In cement plants, keeping dust and spillages on the internal roads and public places under control in order to achieve high standards of cleanliness is a challenging task. The cement production process from quarrying to grinding, kilns, and packaging, includes high amounts of flying dusts.
Roots Multiclean Ltd, India's first and largest mechanized cleaning equipment manufacturer offers a wide range of cleaning solutions for cement industries. Our solutions include Truck Mounted Vacuum Cleaners,Centralized Vacuum Solutions, High Efficiency Road Sweepers etc…
In this article, we bring the key highlights of our All New RD180 the superior sweeping equipment.
RHINO RD180 the Ultimate Power Sweeper designed and developed to withstand challenging conditions and provide outstanding sweeping results to ensure a clean and safe environment.
The most efficient and extremely durable Rhino RD180 is powered with some impeccable features like Superior Air Purge filter cleaning system, Class-leading large filters, Best in class fuel efficiency, Powerful dual suction impellers, and a large hopper.
Features
Filter Cleaning System
Keeping the premises clean and free of dust,especially with continuous movement of trucks and other vehicles, is a challenging task. During continuous operation of the sweeping machine, the filters should be cleaned simultaneously. Technologically superior and most advanced Air Purge based filter cleaning system is in-built in RD 180. Sequential Timer Controlled pulse jet cleaning system eliminates the need for maintenance cleaning (Removing filters and cleaning with compressed Air)
Debris Compact System
The debris compact system functions are controlled via a lever on the operator console. This DCS moves the debris lying near the entrance of the door to the inner end of the hopper.
Dual Impeller System & Pneumatic broom adjustment
The powerful vacuum is generated with the help of Dual Impeller kit, thoroughly controls the flying dust while in operation.
Our specially designed pneumatic system help to adjust the pressure of the broom automatically even on floor surfaces with undulations. The side broom lift and lower operation can be done effortlessly using our hydraulic system. Due to this uniform sweeping performance throughout the area can be achieved easily.
Pressurized cabin
Fully closed Cabin -Spacious and fully closed pressurized cabin helps the operator to work in high dust & extremely challenging environments.
Powerful shock absorbers and suspensions
Hydraulically controlled drive wheel with powerful shock absorbers and suspension system provides stability and good handling to operate the machine on rugged roads. It is supported by the anti-vibration mounted driver's seat in the cabin.
To explore more about our comprehensive solutions, visit us at www.rootsmulticlean.com
Reasons why you need a Scrubber Drier?
The spread of the Covid-19 pandemic has called for an increased level of cleanliness and hygiene at public spaces such as Shopping centers, Malls, Airports, Railway stations, Hotels & Resorts, etc… where thousands of people commute regularly.
Cleaning commercial and industrial floors with high traffic is always a challenging task. To overcome this cleaning challenge, Roots Multiclean Ltd offers a wide range of scrubber driers that are efficient and offer excellent cleaning results.
In this blog, we talk about what scrubber driers are and what are their benefits.
What is Scrubber Drier?
Scrubber driers are machines that can perform both operations scrubbing and drying in a single pass. With the help of brushes/pads combined with water and detergents, even stubborn dirt is removed from the floor effectively. Available in 2 choices, Walk Behind and Ride-On, and choice of Battery & Mains operated are available too.
Benefits of scrubber driers:
Now, that you have an idea about scrubber drier machines, let us know some benefits of scrubber driers:
Faster Cleaning:
To clean large spaces like Malls, Airport terminals is not an easy task, where thousands of footprints are left on the floor on daily basis. It can be easily overcomed by our Scrubber Driers. The inbuilt suction supports immediate drying of the floor. A floor cleaning machine uses less water and supports immaculate cleaning and removes all dirt from the floor which catalyzes maximum productivity.
Based on the area to be cleaned, you can choose either walk-behind or ride-on models, which can complete the cleaning task in a short span compared to a conventional mopping system. We offer a wide range of scrubber driers including, RootsScrub E4043, E/B4545, E/B4550, E/B6050, and RB650/750/850/RB950. Our expert team would recommend you the right solution, based on your site conditions.
Area Coverage:
From compact to large models, our scrubber driers offers a wide scrubbing path that covers area between 1720 – 6175 sq.m/hr.
High standards of cleanliness can be easily achieved. The wide scrubbing path ensures the effective and efficient cleaning of all types of hard floors in an easy manner. The extra brush load applied on the floors helps to remove the hard stains. Our scrubber driers are built to deliver supreme cleaning results even under challenging conditions.
Flexibility:
The compact walk-behind scrubber driers and robustly constructed ride-on scrubber driers guarantee a high degree of maneuverability. These machines can be easily handled and it gives the operator an excellent view of the cleaning area. The brushes or floor pads can be exchanged at one press of a button. The squeegee lips can be removed easily without the help of tools.
Conclusion:
So, now you will have an idea of Scrubber Dryer machines. To know more about our scrubber drier product line up visit our website www.rootsmulticlean.com
---
Ways to use High Pressure Jet Cleaners
Many manufacturing units and commercial places are facing challenges to get rid of the dirt on a regular basis. We're sure no one likes the sight of dirty surroundings. We at Roots Multiclean Ltd aim to solve the cleaning problems by providing a comprehensive range of High-Pressure Jet Cleaners (HPJC), as we know the importance of cleanliness.
Before starting with some facts let us know about:
1. What is a High-Pressure Jet Cleaner?
2. Applications of HPJC
1. What is a High-Pressure Jet Cleaner?
High-Pressure Jet Cleaner is a machine that directs the water at high pressure through a hose to remove the dust, grime, mud, mildew, and mold from surfaces.It may use either cold or hot water which is available in electric and diesel can reach up to the pressure of 130 – 250 Bar.
2. Applications of High-Pressure Jet Cleaner
HPJC is an excellent way to clean all your tenacious patches of dirt from industrial and commercial areas. It can be used in a wide variety of applications such as Food Industries, Automobile Service stations, Pavements, and Washrooms.
2.1 Food Industries:
Regular maintenance in these sectors is a top priority. At first, equipment may look clean, but actually, it requires high standards of cleanliness. To remove the residues from these surfaces High-Pressure Jet Cleaner is an ideal solution that helps to minimize harmful bacteria and germs in the food industry.
In addition, removing fatty and oily contaminants in the food processing unit is not an easy task and it needs additional attention. So using a High-Pressure Jet Cleaner, especially hot water, does not mean only cleanliness but also is an essential tool for reducing germs.
2.2 Automobile service stations:
Modern cars require advanced care and service to maintain longevity in providing efficient performance for a longer period. It is very much essential to clean every single square in on the surface to ensure the vehicle is lustrous. So, these High-Pressure Jet Cleaners can produce enough force to take care of the process effectively.
Grease and stains caused by undergoing several tasks can be a sign of good work done by the caretaker, but it's wise to keep this clean constantly. In this case, High-Pressure Jet Cleaner pressured stream of free-flowing liquid can do the job for you.
2.3 Pavements, and Washrooms:
Keeping these areas can be such a laborious task. Because unlike previous mentions these parts of the building are larger in size and keeping them clean on a daily basis is of utmost significance in a place filled with people.
With the use of High-Pressure Jet Cleaners, the job can be done in a swift with proper accuracy in the eradication of microorganisms. Also, it's quite easy to get the work done within a short span.
---
How to choose Industrial Vacuum Cleaner?
Today tons of wastes are generated by different industries on a daily basis. Most industries are facing challenges to get the waste cleaned. Roots Multiclean Ltd focuses to help industries solve their cleaning problem by providing the right Industrial Vacuum Cleaner (IVC) that is designed for continuous duty and reliable solutions for cleaning dusts, solids, and liquids.
Before choosing an industrial vacuum cleaner, let us know about two important things:- 1) What is IVC? 2) What are the things to be considered while choosing an IVC?
1. What is Industrial Vacuum Cleaner?
Industrial Vacuum Cleaner is a machine used for the general cleaning in industrial environment, Industrial vacuum cleaners are designed to meet specific needs of users and particular tasks that are generally heavy to handle. It is provided with a side-channel blower that is powerful, silent, and suitable for performing round the clock.
The IVC ranges start from 1.8KW to 45KW suitable for various types of industries like Food, Pharmaceutical, Steel, Cement, Foundry, Textiles, Power plants, fertilizers, Bio labs, Engineering, and Automobile sectors available in a standalone, movable, fixed vacuum, online vacuuming, centralized vacuum system, and Truck mounted vacuum.
2. What are the things to be considered while choosing an IVC?
Once you get an idea about IVC you need to consider certain things before picking up the right industrial vacuum cleaner based on Power, Performance, Filtration, Quality & Durability, and Capacity.
2.1 Power:
In general, power is expressed in W (Watts) & kW (kiloWatt). Our product lineup is equipped with single-phase and three-phase motors, which ensures the efficient vacuuming of debris for long period.
2.2 Performance:
The performance of IVC is determined by the Vacuum pressure and Airflow.
Vacuum pressure represents the suction force to clean up the dusts, solids, and liquids. It is also called "Depression". The top depression rate value is taken by mmH2O (millimeters of Water Column), mbars, or others pressure measures.
Air Flow is measured by m3/h (cubic meters per hour), Liters/sec. It refers to the volume of air moved by the suction unit. The top airflow rate is measured with a suction inlet completely open.
2.3 Filtration:
The most important thing to consider is Filtration. Our Industrial Vacuum Cleaners are equipped with various types of primary filters and HEPA filters to accomplish high filtration efficiency which ensures the exhaust air is free from dust particles.
Primary filters generally have relatively low permeability. To achieve a reasonably low-pressure drop through the filter, the element area (surface area) must be increased. Quality of the filtration increases by large filter surface area to achieve better efficiency.
2.4 Collection Tank:
It's also an important thing to consider the capacity while choosing an Industrial Vacuum Cleaner. It depends on the size of the disposal tank. For continuous operations, you need a large collection unit to remove residuals and it is also easy to detach the collection container with rotatable castor wheels for easy transportation of dust collected.
2.5 Quality & Durability:
Another element to be considered is Quality and Durability. All Industrial Vacuum Cleaners are provided with sturdy steels chassis to withstand for many years. When evaluating durability, the machine construction is designed and developed to work for the rugged nature of factories, where other industrial vacuum cleaners fail to do.
Conclusion:
On the market, there are many industrial vacuum cleaners available that differ by their performance, and applications. In the decision-making stage, it's always better to hear from the professionals to guide you to choose the right Industrial Vacuum Cleaners. To know more about our Industrial Vacuum Cleaners visit our page
Our cleaning solutions for public area
Hotels and Resorts: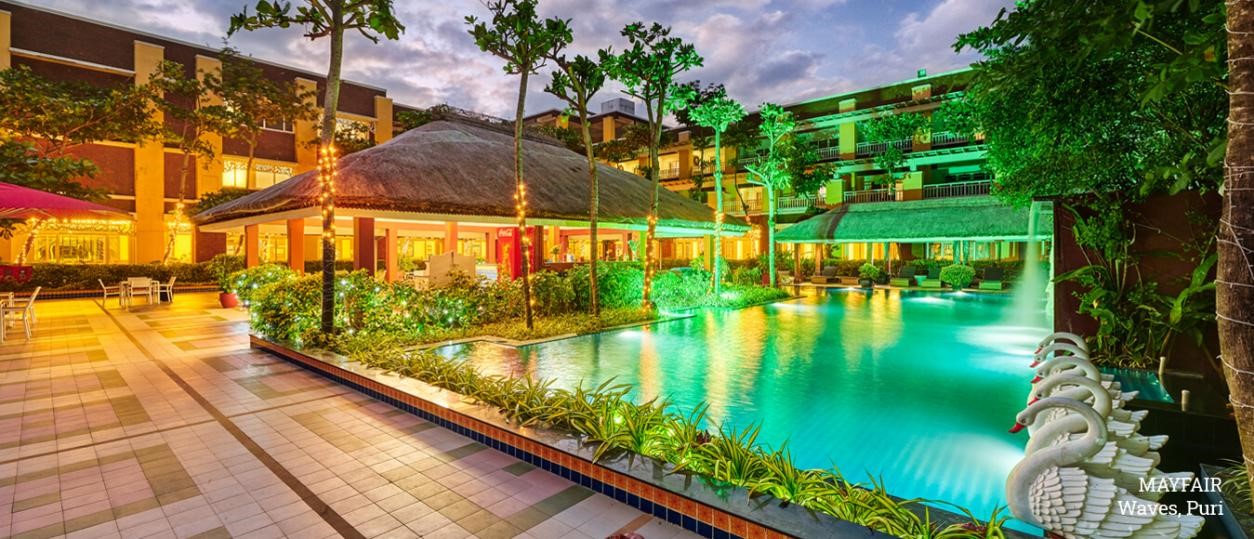 Hygiene is the face of hospitality, every year residential business spend a huge sum of
money in keeping their premises clean, because it takes loads of manpower to constantly
monitor and keep them free from littering cause by their residing customers.
With the help of our comprehensive range of cleaning solutions, we assure enhanced cleaning performance, and reduced time & effort.
Railway Stations: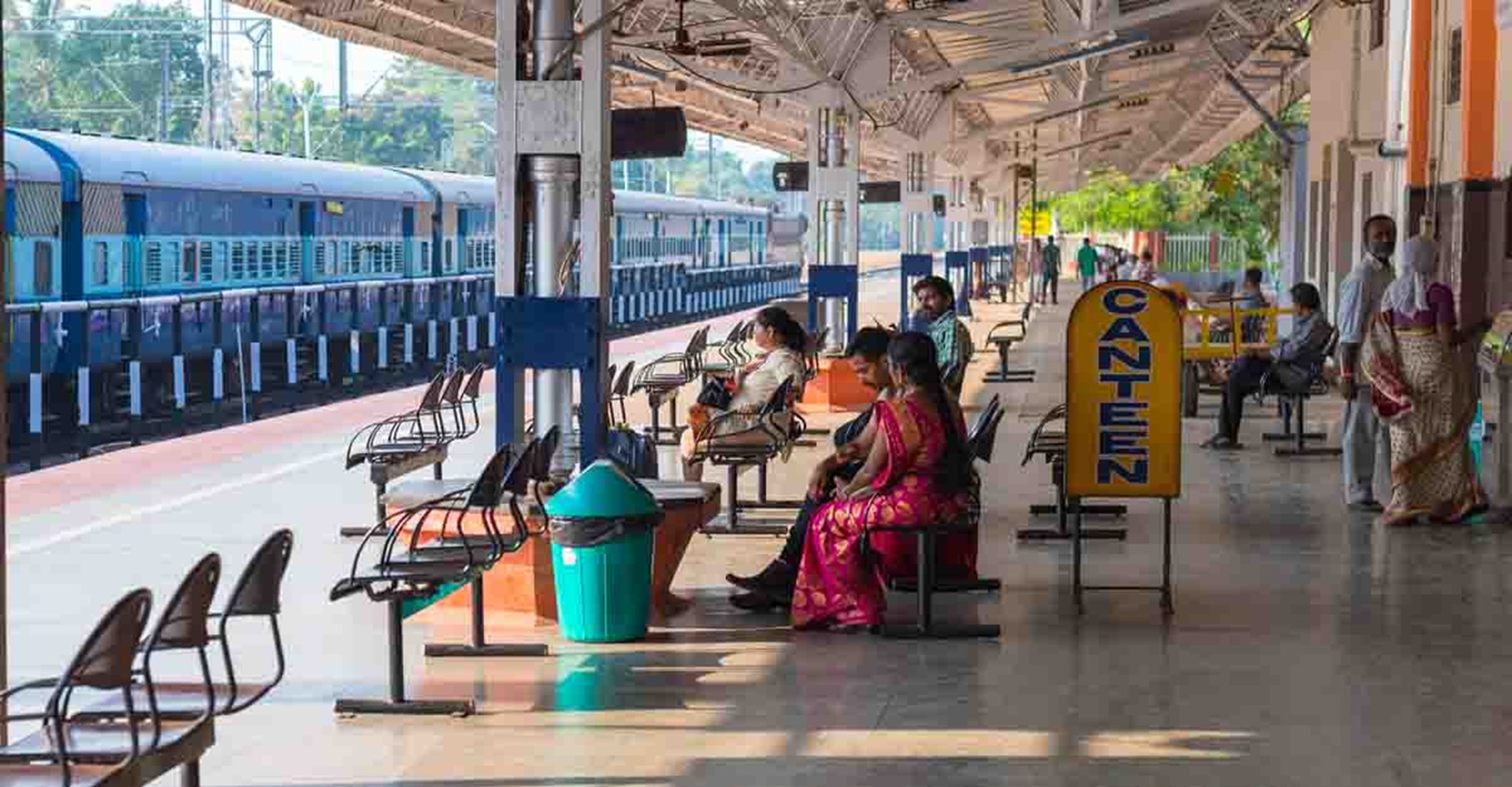 More than thousands of passengers walk through these platforms daily. The process of maintaining cleanliness in these large structures of transport can be made easier with help of technology.
To clean platforms, our walk behind and ride on scrubber driers offer effective cleaning. The inbuilt suctions system supports the immediate drying of floor, ensuring passenger's safety.
Like floor cleaning it is also essential to keep other high traffic areas like washrooms, ticket counters etc…. we offer ideally suited machines like High pressure jet cleaners, Sweepers and Mops & Trolleys to look clean and good.
Importance of Mechanised Cleaning in Manufacturing Sector
If you are requiring mechanized cleaning solutions for your business establishments & manufacturing units then this blog will present you with some beneficial ideas about what is mechanized cleaning? & how it will help you keep your premises dust-free efficiently.
A decade ago, the predominant solution to keep the place hygienic was to use traditional laborious methods of cleaning by hand & using manual tools. Mechanized solutions were not prominent then. With the advent of mechanized cleaning machines, the cleaning industry has evolved a lot and maintaining hygienic environment is extremely simple. With mechanized cleaning; it's quite easy to perform the task with uniformity across.
What is Mechanised cleaning?
The process of removing dirt/debris from the surface with the help of cleaning equipment which supports enhanced cleaning performance, lesser human effort and more efficiency.
Roots Multiclean Ltd, India's first and largest mechanized cleaning equipment manufacturer offers wide range of mechanized cleaning solutions for manufacturing industries like Cement Industry, Food Processing Industry, and Pharmaceuticals Industries etc.
2. Food Processing Industry
When it comes to Food processing industries, cleaning is essential in the production, preparation and manufacture of food. Negligence of cleaning can lead to increase risks to both staffs and customers. Effective cleaning and sanitation can be achieved through mechanised cleaning which prevent from bacteria and other viral infections.
To maintain clean and hygiene environment our wide range of Scrubber Driers, High Pressure Jets, and Steam Cleaners are used to achieve the high degree of cleanliness in indoor premises.
For vacuuming indoor floors, our walk – Behind and Ride – On Scrubber Driers ensures effective cleaning of aisles and corners. Excellent view and easy guidance of control panel help to handle the scrubber drier machine effectively.
To clean large bowls in food industries, Our specially designed Heavy – Duty High Pressure Jet and Steam Cleaner which ensures the excellent cleaning results and look alike as a renewed one.
It is also necessary to maintain the cleanliness for outdoor premises. Our specially designed RootsSweep RB120 GEN – NXT ride on machine powered with impeccable features like Hydraulic dumping system, CAN Bus control with display, Variable drive speed and Dust suppression system.
Mechanised Road Sweeping Machines – For Cleaner & Safer Roads
Roots RSB 6000 Truck Mounted Road Sweeper
In this modern day with ever increasing traffic, the biggest challenge is the sharp increase in road accidents. Two and three-wheeler riders accounted for 40% of all traffic fatal accidents in India, according to WHO's Global Status Report on Road Safety and India ranks first in the number of road accident deaths across the 199 countries and accounts for almost 11% of the accident related deaths in the World.
Civic Bodies face a real challenge of maintaining cleaner and safer roads free from fine sands. Fine sand that gets accumulated near the center median and on the side of the roads is a major threat to two wheeler riders who have to navigate through with extra caution. To sweep these sands, Urban Local Bodies (ULBs) are engaging conservancy workers, who manually sweep the accumulated sand mounds near the center median. However the constant vehicle movement, dissolves the mounds by pushing the sand back on to the road, giving a tough time to motorists who struggle for balance, especially two-wheeler riders.
Also known as City Sweepers, the Truck Mounted Sweepers come as a boon and a great solution in resolving this day to day challenge faced by Municipal Corporations in ensuring cleaner and safer Roads for motorists to commute…
Roots Multiclean Ltd is the Leader in the cleaning Industry with wide range of mechanized cleaning solutions for almost three decades. Our innovative and hi-tech Road sweeping machines also known as City Sweepers are manufactured at the state-of-the-art manufacturing facility in Coimbatore.
With the experience of offering City Sweepers for over 20 years now, Roots Multiclean Ltd is proud to offer the RSB 6000, the High-Performance Road sweeping Machine, a truck mounted sweeper, with maximum performance, strength, efficiency and productivity.
The RSB 6000 City Sweeper comes equipped with unbeatable features and innovative technology.
As the name suggests, The Truck Mounted Sweepers are sweeping units mounted on to a Truck for primary movement and the functions of the sweeping unit is controlled by an Auxiliary engine.
The Powerful yet fuel efficient Auxiliary engine, powers the broom and vacuum functions of RSB 6000. While in operation, the Side & Center Brooms dislocates the sand/debris from the surface and moves it towards the Suction Head, which effectively picks up all the debris and collects in to the Hopper. The RSB 6000 offers a Hopper capacity of 6 cu.m. This large hopper supports uninterrupted and large area coverage.
The Hydraulically operated Hopper Door has an opening angle of 90º with Hydraulic locking system. The controls from inside the cabin, make it a safe system and easy to operate always.
The challenging part of Dust suppression even in heavy sand/dust accumulated surfaces is taken care by Water Suppression at source. Dust suppression by water sprinkling through multiple different nozzles ensures Dust suppression at its best. Flying dust inside the hopper is also totally arrested by continuous water spray making RSB 6000, an all Weather Runner.
The Polypropylene main Broom combined with the Spring Steel Side Brushes ensures excellent sweeping performance every time. The Two free floating Suction hoods on either side with the choice of operating any one hood independently or both simultaneously depending upon the need offers supports excellent sweeping performance.
Safety parameters have always been an important aspect of machines from RMCL's stable and RSB 6000 is no exception… The Hopper load holding valve in addition to the Manual safety lock to ensure additional safety is a classic example in addition to Auxiliary engine control unit with automatic safety shut down, Hopper home position indicator, Hopper overload indicator, warning beacon etc.
Equipped with an option of High Pressure water jet of 130 bar, this machine makes it simple to clean sign boards, monuments, paver blocks on the walking tracks, barricades and any kind of stubborn and sticky dirt on different surfaces.
Inbuilt water tank of 1000 Liters, this machine offers an optional tank of 800 liters.The In-built wander hose system ensures Gutter and difficult to access area cleaning a simple task.
RSB 6000 Sweeping kit is engineered to suit different brands of international Trucks.
Thanks to the robust and rugged construction, the RSB 6000 Road Sweeper offers excellent sweeping performance even in challenging working conditions in Ports, Container terminals & Manufacturing units and many ULBs across India.
The Convenience Of Cleaning With State-Of-Art Roots Multiclean Ltd Products
Typically, the sanitation activities tend to be in the care of women's hands conventionally. So often housekeeping activities are handed over to her more than men.
Our solutions are ergonomically designed are easily understandable and simple to operate. In a country like India, where almost all public places overflow with thousands and thousands of people each and every day, it becomes harder for any janitorial worker to clean frequently. It is hard for them to match-up their work with such a dense, exhausting masses of people without fatigue.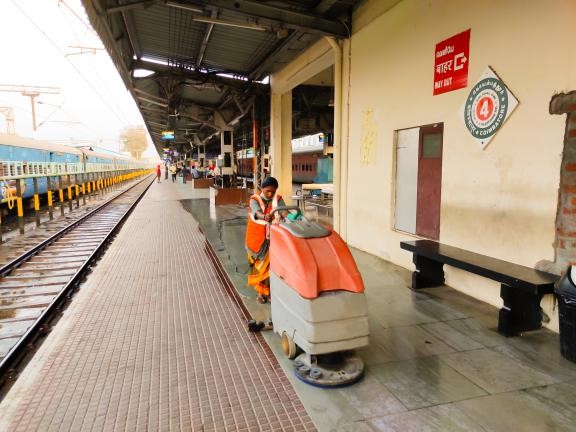 Our solutions are ergonomically designed are easily understandable and simple to operate. In a country like India, where almost all public places overflow with thousands and thousands of people each and every day, it becomes harder for any janitorial worker to clean frequently. It is hard for them to match-up their work with such a dense, exhausting masses of people without fatigue.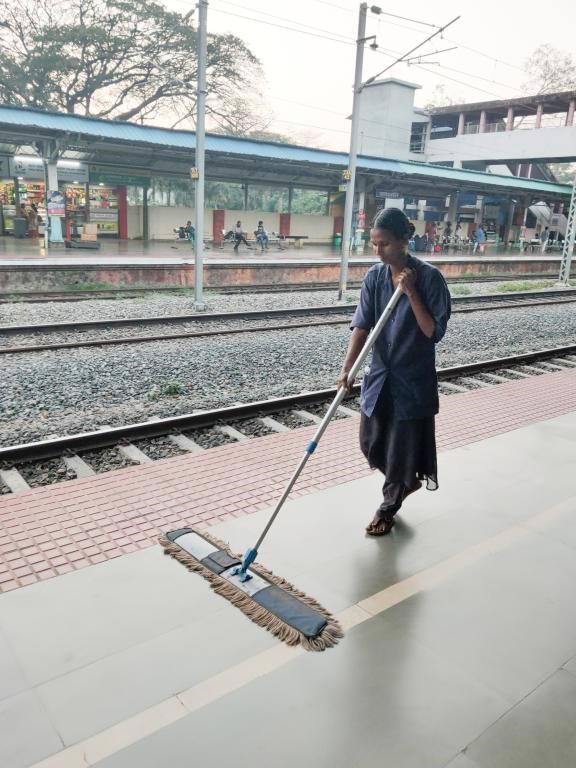 Thus Roots Multiclean Ltd with its wide range of cleaning solutions aid to simplify and to reduce the burden of any premises maintenance. Our easy maneuverable, uncomplicated cleaning machines can be easily operated even in premises with busy public commutation.
Our comprehensive product list consists of machines of all sizes that are convenient to operate safely and effectively in all places.

Our machines are desirable for a wide range of applications; and comprises of Scrubber driers, High-pressure washers, Industrial vacuum cleaners, Carpet cleaner machines, Steam cleaners, City sweepers and Runway sweepers.
These features make us a preferred solution provider in the Clean Nation Mission as many of our products play major roles in keeping cleanliness and hygiene in many diverse fields of secondary and territory sectors like Manufacturing, Railways, Defence, Pharma, Automobile industries and so on.
In our glorious journey, We won the trust and confidence of our customers across India as well as in the global market. Roots Multiclean Ltd touches the lives of common people either directly or indirectly. We are proud to say that we play a supportive rule in keeping our nation clean.
Please feel free to contact us for Hygiene Solutions.
Global Training Academy(GTA) – Roots Multiclean Ltd
Roots Multiclean Ltd has been collaborating with many Prestigious & Key accounts across India & Global markets for the past several years.
Our new state of the art Global Training Academy is a step towards upgrading the knowledge of Cleaning Industry Professionals and Students aspiring to become future leaders in the Cleaning Industry.
This facility is a sprawling 10,000 sq.ft training centre which contains all required infrastructure including different kinds of floors like Granite, Marble, Vitrified Tiles, Kota, Epoxy, Concrete, Wooden, Carpet, Chequered Plate… All under one roof.
The facility is fully equipped with equipment like Sweepers, Scrubbers, Vacuum cleaners, High-pressure water jets, Steam cleaners and a Complete range of Mops/Trolleys.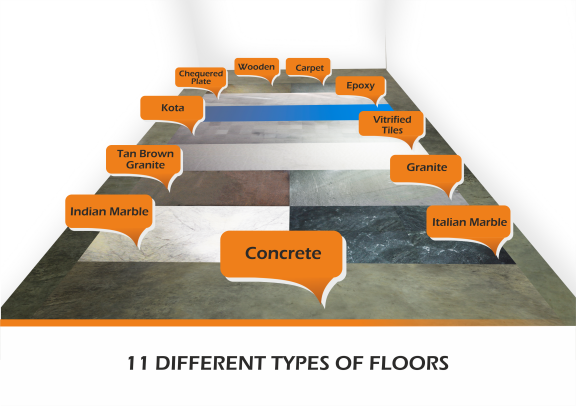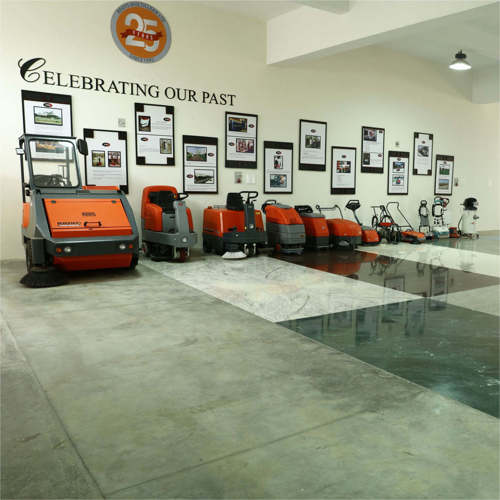 Focussed training classes for challenging housekeeping applications like Marble Crystallization, Carpet Cleaning & maintenance, removal of Stubborn Soil from Epoxy Floors, etc are some of the training points.
What makes it even more interesting is that participants get hands-on operating experience from the frequently used domestic mops to Ride-on Scrubber Driers and even Road Sweepers…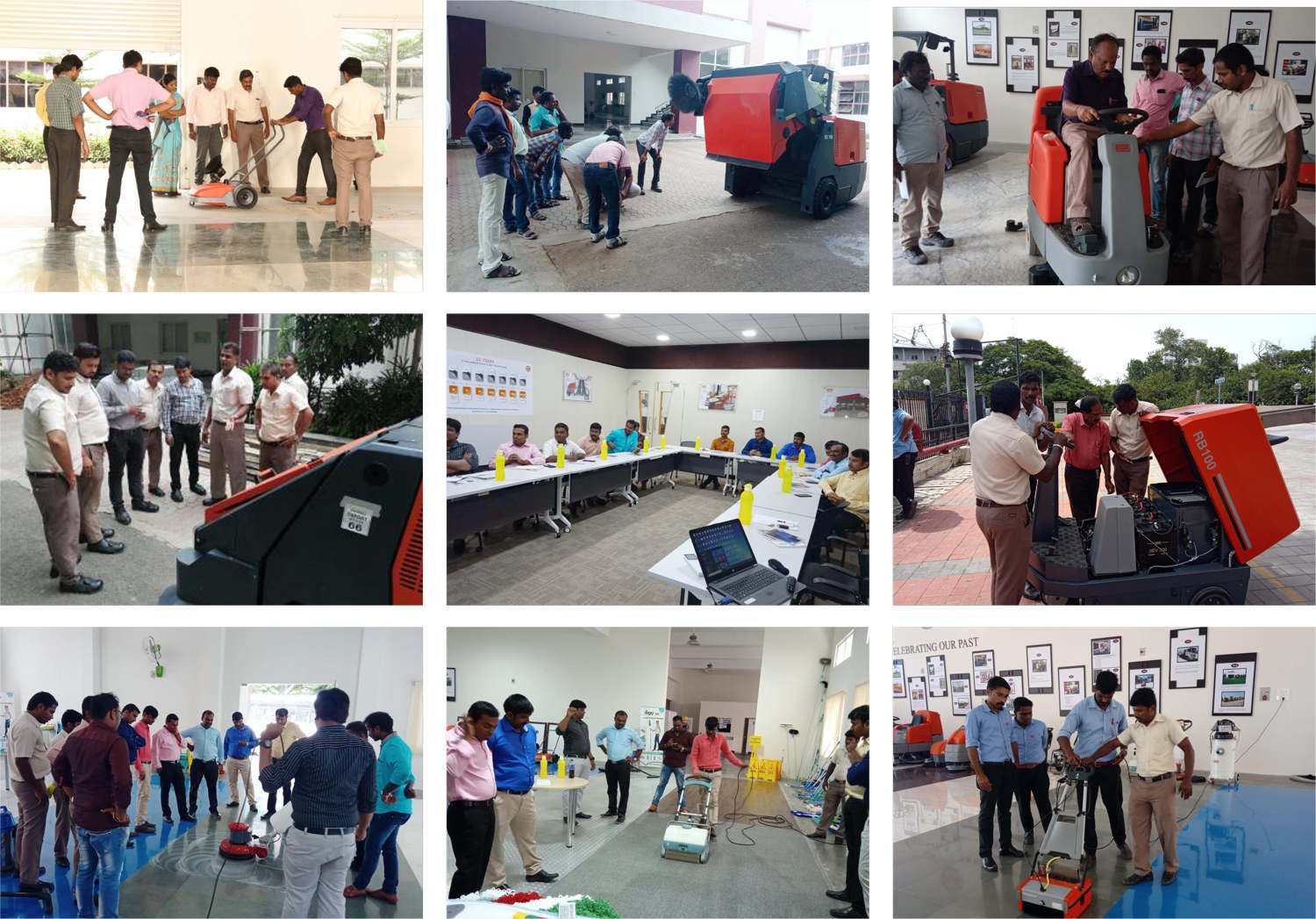 On completion of training, participants learn and take-away an overall experience of:
Knowledge of choosing right cleaning process, machines operations and their maintenance.
Working principles of cleaning machines, detergents, mops, tools and different kinds floor Pads.
Knowledge of safe handling of cleaning detergents and machines –
Critical points, ensuring of right processes and safe handling of the cleaning aids- as all this would directly result in day to day operations which require quick actions, yet safe operation.
Upon successful completion of training, participants would be issued a certificate.
For further enquiries, please feel free to contact us